Just finished watching Snow White and the Huntsman. While it is a rather unmemorable movie (the evil queen was the only highlight – and I couldn't help smiling when I read how many people did not want to be in this movie), I noted that there now are a couple of movie characters with respectable female armour. Most of them are obviously meant ceremonial, as they are heavily decorated and missing a helmet, but at least they are effin' full-body armour and don't look as embarrassing as for example Xena's leather miniskirt with matching corset (don't get me wrong, I liked the series, but her outfit cannot be taken seriously), or just about any computer game I've seen so far.
We have Cate Blanchett as Queen Elizabeth (I really need to rewatch the DVDs to remember what she did wearing that. In any case it wouldn't have looked out of place in LOTR)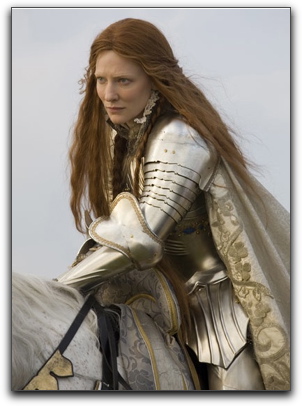 Miranda Otto as Eowyn, who stabs them right in the face
Gwendoline Christie as Brienne of Tarth, the Arse-kicking Maiden. She looks the most believable, I think.
Mia Wasikowska as Alice, who wears hairspray instead of a helmet
And poor Snow White who also did not get to wear a helmet, but a long braid which made it easier for the Evil Queen to grab her and drag her around a bit. Seriously – sensible hairdo anyone?
Let's end this short collection with someone who is a true role model. She is not of this world, but also in space, arse-kicking is never out of place.